The Chinese Institutional reform will affect the food industry
The massive state council reshuffle plan is unveiled on Mar 13th in Beijing. All food industry related departments are involved in this reform. AntionGlobal will introduce the latest restructuring in the following content.
CFDA, AQSIQ, SAIC merge to one
The three agencies, China Food and Drug Administration (CFDA), the General Administration of Quality Supervision, Inspection and Quarantine (AQSIQ), the State Administration for Industry & Commerce(SAIC), will incorporate to a new agency, the National Market Supervision Administration. Please note the entry/exit inspection and quarantine function of AQSIQ is divided into the Customs.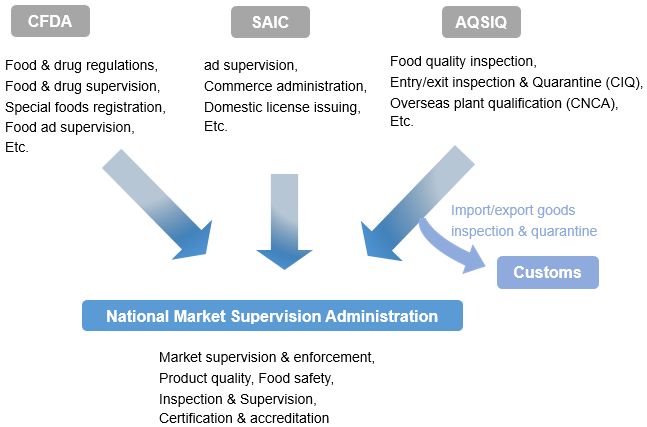 The National Health and Family Planning Commission (NHFPC) will reorganize its subordinates and change the name to the National Health Commission. The Ministry of Agriculture (MOA) will experience restructuring and be renamed as the Ministry of Agriculture and Rural Affairs.

Supervision on Food safety will be strenthen. In the last years, CFDA and AQSIQ seperately adnimister the food industry with overlapping responsibilities. The supervision, law and regulation enforcement all will be more efficient by the incorperated new administration.


Import process will be simplified and accelareted. It seems CIQ is taken by the Customs which may make the whole process smoothier and easier.

Delighten the future of nutritional food. One of the main tasks set for the National Health Commission is focusing on and improving public health, which may bring promising opportunities to functional food, and nutritional food.